This Chicken Barbecue recipe is marinated the Filipino way. It's the same marinade as the pork bbq we usually have, but uses chicken instead. Whenever we say chicken bbq here in the Philippines, all we can think of is the original Aristocrat. This is still nowhere near that recipe, but it's off to a good start. It's still delicious and succulent.
How to make:
This recipe is very easy. You just have to marinade the boneless chicken thigh fillet in soy sauce, lemon juice, banana ketchup, salt and pepper. Marinating it overnight will give you best result. Then just grill it whenever you need it.
For the Java Rice, heat pan and put annatto seeds with oil. Heat annatto seeds in low heat until it sizzles. Be careful not to burn yourself as this might pop out of the pan. Discard seeds afterwards.
In same pan, heat the annatto oil and minced garlic until brown. Add butter and cooked rice, coating all rice with annatto oil, turning it to orange. Add in banana ketchup with soy sauce. Season with salt and pepper. Served with grilled chicken bbq.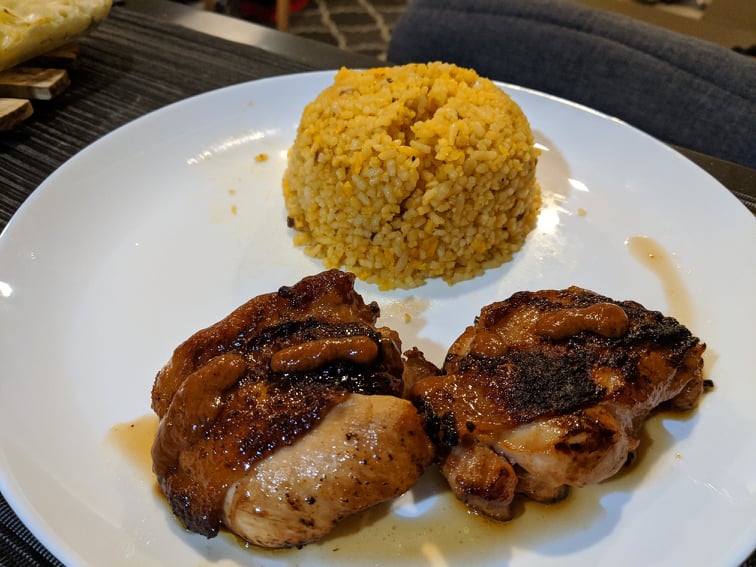 Boneless Chicken BBQ with Java Rice Recipe:
This dish is very easy to make. Just marinade all ingredients for the bbq and grill the chicken!
Category: Main Course
Cuisine: Filipino
Prep time: 30 minutes
Cooking time: 30 minutes
Servings: 2
Calories: 62 cal per serving
Rating: 4.5
Ingredients:
Chicken BBQ
4 boneless chicken thigh fillet
1/2 cup soy sauce
1 pc squeezed lemon
1/2 cup banana ketchup
salt
pepper
Java Rice
1 tb annatto seeds
3 tb coconut oil
cooked rice for 2 persons
minced garlic
2 tb butter
1 tb banana ketchup
1 tb soy sauce
salt
pepper
Instructions:
For the Java Rice:
Heat annatto seeds and oil in pan in low heat.
Turn off heat when the seeds starts to pop out of the pan and turn into brown.
Discards the seeds
In the same pan with annatto oil, add the minced garlic until brown
Add the butter and cooked rice. Mix well until all rice are coated with annatto oil
Add in banana ketchup and soy sauce
season with salt and pepper
For the Grilled Chicken BBQ: 
Make the marinade first by combining soy sauce, lemon, ketchup salt and pepper.
Add to chicken thigh fillet and mix until entirely covered.
Transfer to ziplock bag and marinade overnight
Remove chicken and set aside the marinade sauce
Heat the pan and grill chicken until cooked, basting chicken occasionally with the reserved marinade
Set aside.