This dish is so delicious. It's actually an attempt to recreate Mc Donald's Chicken Fillet ala King. The difference in here is that you can taste the real chicken unlike the fastfood version.
How to make:
I pound the chicken thigh fillet to flatten it. You don't wan't your chicken to be very thick. Then, I season the chicken with salt, pepper, garlic powder and paprika. Add beaten egg, all purpose flour and cold water and marinade it overnight for extra flavor. After this, just coat it with all purpose flour and fry in pan.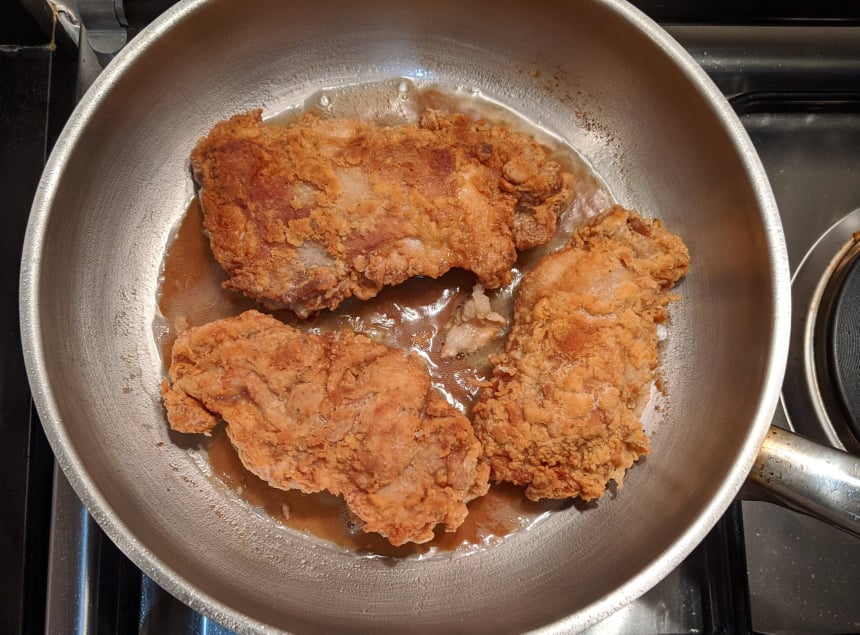 For the white sauce, put butter in pan. Then you can add all purpose flour, minced garlic, minced onions, minced carrots. After mixing all together, slowly add in chicken stock, stirring occasionally. Add evaporated milk and cheese. Lastly, season with salt and pepper.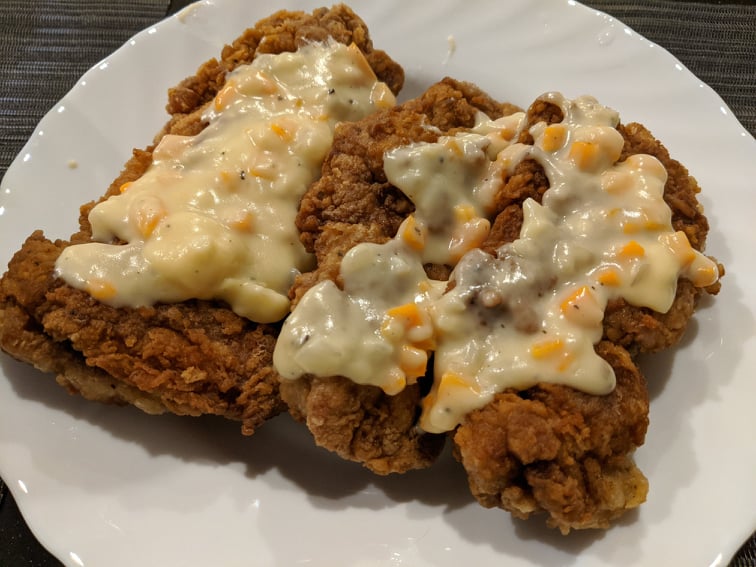 Crispy Chicken Fillet in Creamy Sauce ( Mcdo Style) Recipe:
This dish is also called chicken fillet ala king
Category: Main Course
Cuisine: American
Prep time: 20 minutes
Cooking time: 30 minutes
Servings: 2
Calories: 133 cal per serving
Rating: 4.5
Ingredients:
3 pcs pf chicken thigh fillet
salt and pepper
1 tsp paprika
1 tsp garlic powder
1/4 cup all purpose flour
1 egg
1/4 cup cold water
For the sauce:
2 tb butter
1/2 tb flour
2 tb of minced garlic
minced onions (1/8 cup)
minced carrots (1/8 cup)
3/4 cup chicken broth
1/3 cup evaporated milk
1/4 cup shredded cheddar cheese
salt and pepper to taste
Instructions:
For the chicken:
Pound chicken thigh fillet to flatten it
Season with salt, pepper, garlic powder, paprika
Add beaten egg, all purpose flour and cold water
Mix together and marinade overnight
In hot pan, put oil and fry chicken on both sides until crispy and cooked
For the Sauce:
 Add butter and wait for it to melt
Add in flour and mix together to form a roux
Add the minced garlic, onions and carrots
Slowly add in chicken stock, stirring occasionally until well combined
Turn heat to low and ddd the evaporated milk and cheese.
season with salt and pepper to taste