To be honest, I haven't tried Giovanni's shrimp truck. I just saw a post from a friend and it got me interested. It looks heavenly! It's so garlicky and savory. I looked for it and decided to play a version of my own. It's so good with rice. You won't regret doing it. There are lots of flavors to choose from but I decided to recreate the garlic shrimp that's very famous.
How to make:
For the roast garlic, I just use toaster for easier cooking. Chopped open a whole head of garlic. Yes, you will need this a lot. Drizzle with olive oil and salt. wrapped it in aluminum foil and put in oven toaster for 10 minutes.
While waiting for the roasted garlic, you also have to minced about 4 cloves of garlic for cooking.
The cooking process is very short as to not overcooked the shrimps.
Once the garlic in toaster is done, remove from foil. Take out the garlic from the outer skin and mashed it with oil.
For cooking, add butter and a little oil to prevent from burning the butter. Put in the minced garlic. Cooked slow in low heat allowing it to get toasted but not burnt.
Add in the white wine and wait to reduced in half. Then add the mashed roasted garlic, mixing all together in pan.
To season, add salt, pepper, paprika, add more butter. Add the lemon juice and the peeled shrimps. The actual shrimps served in Giovanni's food truck is not peeled. I just prefer this so it can easily be eaten and to add more flavor to the shrimps instead.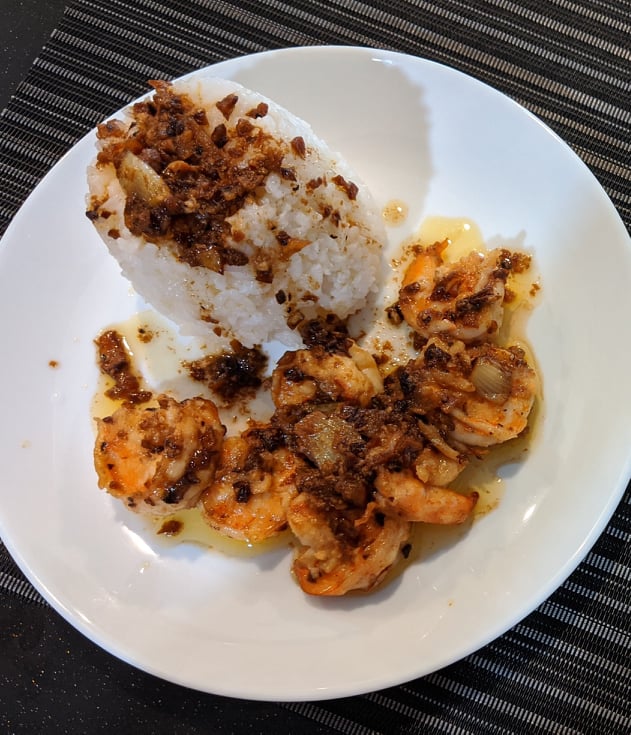 Hawaiian Shrimp Truck Recipe Recipe:
There are lots of shrimp trucks in Hawaii but the most famous one tourists go to is the Giovanni's Food Truck.
Category: Main Course
Cuisine: American
Prep time: 15 minutes
Cooking time: 20 minutes
Servings: 2
Calories: 55 cal per serving
Rating: 4.5
Ingredients:
one whole head of garlic
minced garlic ( about 4 cloves)
3 tb of butter
1/4 cup white wine
salt and pepper
1/2 tsp paprika
lemon juice from half lemon
14 pcs of shrimps
Instructions:
Roast Garlic: 
Chopped open a whole head of garlic, add salt and oil
Wrapped in aluminum foil and set oven toaster for 10 mins
Take out the garlic and mashed it, adding more oil
Cooking:
In pan, add the 2 tb of butter and a little oil
add the minced garlic and cooked slowly in low heat for about 8 mins until toasted
Add in the white wine and reduced to half
add the roasted mashed garlic
Season with salt, pepper, paprika
Add in the 1 tb of butter and lemon juice
Add the shrimps, cooked for 1-2mins per sides. Don't overcooked the shrimps
Served over rice
Tips:
You should have enough buttery sauce in the end to drizzle it on topped of rice. Add butter as needed
You can peel the shrimps like what I did. Your choice 🙂