I always like to find new interesting dish to cooked. It keeps me going and not feel tired of cooking everyday food for my family. I was browsing the pork cuts in a meat shop online and saw the lechon kawali cut. This made me interested in trying this dish. Though I'm really not a fan of deep frying, I want to try my version of this recipe without having to waste all the oil or the need of deep fryer. So happy it still turns out crispy and juicy.
How to make:
Lechon Kawali is easy to make but requires a lot of waiting time. I suggest making this ahead of time so you won't have to rush everything. I made this for dinner so I have plenty of time in the afternoon to prepare this dish.
Let's Get Started!
You have to boil the pork belly first in herbs and spices ( salt, bay leaf, peppercorns) for about 40 mins. Drain the water and let it cool.
I cut the pork belly lengthwise for easy frying and rubbed salt into it.
Cutting the pork belly is for those who doesn't want to deep fry the meat like me. If not, go ahead and dredge everything in hot oil.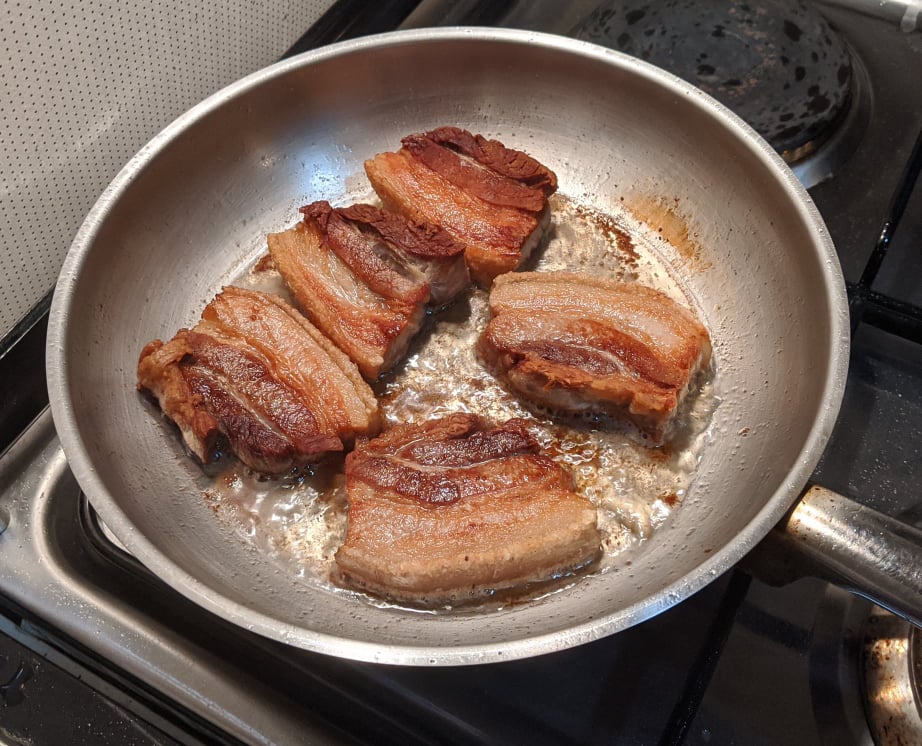 Lechon Kawali ( No Deep Frying Needed ) Recipe:
Lechon Kawali is a pork belly dish simmered first then deep fried to achieve its crispiness. It is usually accompanied by lechon sauce or Mang Tomas Sarsa. Because of the crispiness, you feel less guilty in eating all the fat in pork belly.
Category: Main Course
Cuisine: Filipino
Prep time: 15 minutes
Cooking time: 80 minutes
Servings: 3
Calories: 833 cal per serving
Rating: 4.5
Ingredients:
500 grams of Lechon Kawali Cut ( Pork Belly)
Salt
5 bay leaf
1/2 tb of peppercorns
Instructions:
Place pork belly in pot with water covering the entire meat. Add 2 tb of salt, bay leaf, peppercorns. Let it boil and turn to medium heat for 40 mins.
Remove from pot and drain the water. Let it stand and cool. You have to let the water drip from the meat so it will be extra crispy when you're gonna fry it later
Rub the meat generously with salt
Cut the meat lengthwise
In a hot pan, fry meat on all sides including the top part
Tips:
Prepare the pork belly ahead of time. You can boil the pork first and let it set aside. Fry the pork when its about time to eat
Fry the pork belly on all sides to achieve the crispiness on all sides