I want to make something easy to cook but still savory. The ingredients here are very simple but you need some Japanese condiments for you to make this. You actually need dashi stock for this recipe, but I always substitute it with chicken stock. I think it still taste delicious. You can try it :)
How to make: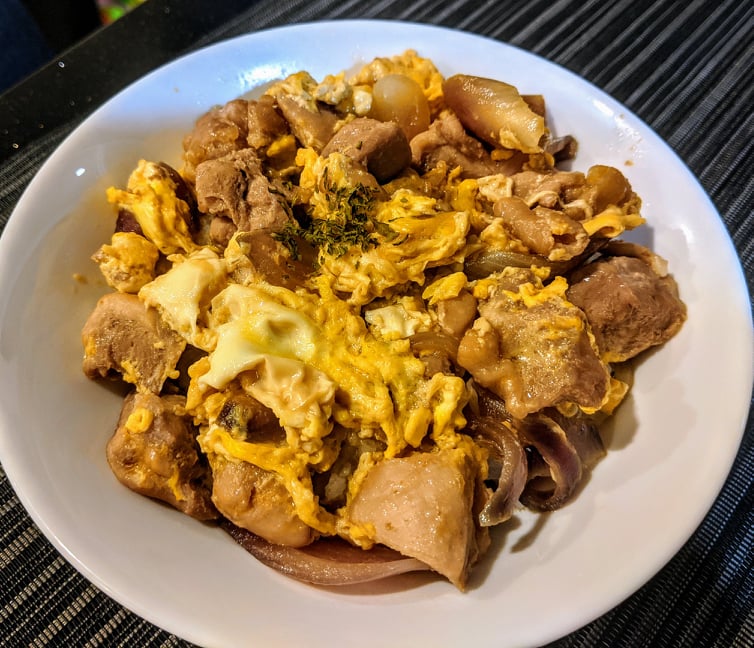 I love how this recipe is so easy and convenient. You simply have to put all ingredients in a pan and let it simmer!
Japanese Oyakodon Recipe:
Oyakodon is a Japanese Chicken & Egg served in a rice bowl. It's so easy to make.
Category: Main Course
Cuisine: Japanese
Prep time: 10 minutes
Cooking time: 15 minutes
Servings: 2
Calories: 124 cal per serving
Rating: 4.5
Ingredients:
140 grams Chicken Thigh Fillet- sliced into cubes
1 pc white onion- sliced
1 egg
1 tb soy sauce
1.5 tb Mirin
1/2 cup chicken stock ( chicken cube dissolved in water) or dashi if available
1/2 tsp sugar
pepper
Instructions:
In a pan, mix together the ingredients: soy sauce, mirin, chicken stock, sugar
Add in chicken thigh, sliced onions
Turn the heat on and let it boil
Once boil, simmer covered for about 8 mins turning each side if it becomes white
Add lightly beaten egg and spread all over the pan with the chicken
cover for about a minute
Served on top of rice