Did you miss the sizzling pork chop gravy in your college days? When I was in college, my friends and I would always go to this sizzling house where in the rice will be covered by lots of gravy! Plus unli-rice! Oh those where the days when you eat and eat and it doesn't matter because everything will be digested after. This made me recreate the dish at home. Pork chop ala pobre is grilled pork steaks covered in lots of gravy!
How to make: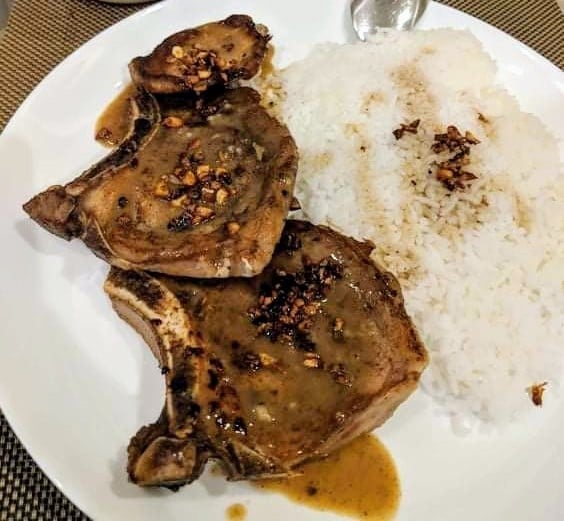 Seasoning the pork chops with garlic salt and pepper for half a day will ensure a flavorful meat. After grilling the pork in butter, you have to make the gravy.
For the gravy, you need to melt the butter in pan for low heat to prevent from burning it. Mix in the flour to form a roux. Add the seasoning cube, water, soy sauce and pepper and that's it! Smothered it in your pork chops and gravy. You can topped it with toasted garlic!
Pork Chop Ala Pobre Recipe:
Porkchop Ala Pobre is grilled pork chops smothered in gravy sauce.
Category: Main Course
Cuisine: Filipino
Prep time: 15 minutes
Cooking time: 30 minutes
Servings: 2
Calories: 288 cal per serving
Rating: 4.5
Ingredients:
For the Pork Chops:
4 Pork Chops
garlic powder
salt
pepper
butter
For the Toasted Garlic:
lots of minced garlic
oil
For the Gravy:
3 tb butter
3/4 tb all purpose flour
1/4 chicken cube seasoning
1 cup water
pepper
1/2 tb soy sauce
Instructions:
For the pork chops: Trim the fat. Forked it to make it tender
Season the chops with garlic powder, salt and pepper
Set aside. Marinade for half day or overnight
Melt butter in pan. Grill pork chops on both side until cooked. Set aside.
For the toasted garlic: In a pan, put cooking oil and toast minced garlic until browned in low heat. Set aside.
For the gravy: In pan, melt butter in low heat.
Add the all purpose flour and whisk together
add the chicken cube
add the water and stir occasionally until it becomes a gravy consistency
add soy sauce and pepper to taste
Pour gravy over pork chops and rice
Topped with toasted garlic