I have extra spring roll wrapper from my lumpia shanghai and was thinking of what to do it. I saw a canned of tuna and decided to use this to make tuna cheese samosa. Samosa is a fried pastry with savory filling. You can play around by choosing what filling you want or what you have available ingredients in your home.
How to make: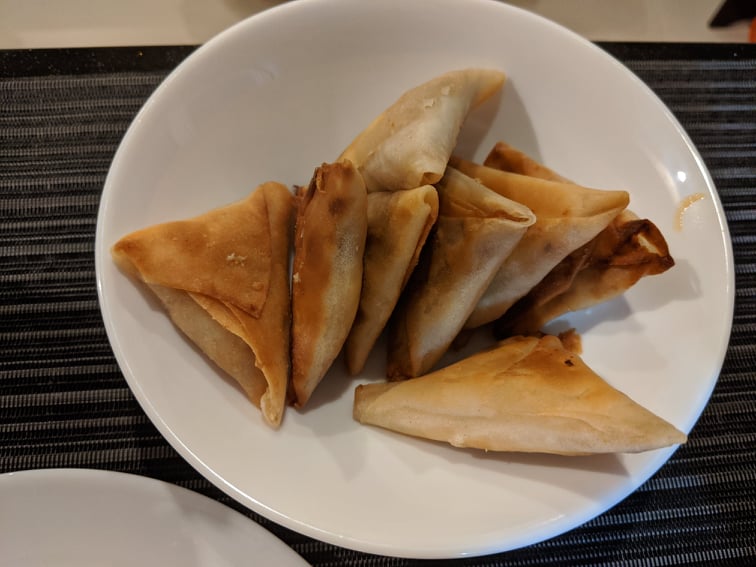 Drain a can of hot and spicy Century Tuna. Discard the oil in it. You can use the non spicy for this. Prepare small cubes of cheddar cheese and a little cream cheese if available. Mix with tuna to make a filling for your pastry.
I cut the spring rolls diagonally to make a triangular shape. Put the filling in the wrapper and seal with water.
In pan, fry the samosa until brown for about 2 mins on both sides.
Tuna Cheese Samosa Recipe:
This recipe is very easy to make and very fulfilling. Even kids will love it!
Category: Appetizer
Cuisine: Filipino
Prep time: 15 minutes
Cooking time: 10 minutes
Servings: 2
Calories: 65 cal per serving
Rating: 4.5
Ingredients:
Hot and Spicy Century Tuna ( 55grams)
Spring roll wrapper
cream cheese ( any brand)
cheddar cheese ( you can also use Monterey jack cheese)
oil
Instructions:
Drain century tuna and discard oil
Cut cheddar cheese into small cubes
Add together the tuna, cheddar cheese and cream cheese. Mix together to make the filling.
Cut the spring roll wrapper diagonally
Fold into triangular shape
add the filling
Seal with water
Pan fry on both sides until brown for about 2 mins each sides
This yields into 8 pcs of samosa
Tips:
You can play around the filling by omitting cream cheese, adding different kinds of cheese instead