I decided to celebrate my birthday in Little Tokyo, Makati City. Little Tokyo has lots of authentic Japanese restaurants to choose from. The one caught my attention, which is also the most famous restaurant there, is Izakaya Kikufuji.
We went there at around 6:30 PM on Monday and parking was already full. Even the parking space of the building beside it wasn't available. Good thing someone told us to park at the bank next to it instead.
 As we enter Izakaya Kikufuji, no one assisted us and we are left looking around if there are still available seats.  Everyone was busy and we just went ahead. We are told that there are still seats inside. We found a comfortable seat, but after a few minutes, we smelled cigarettes. We asked the waitress if this was a smoking area and surprisingly she said yes. We just retain our table because people are starting to come and we had no choice.
What we ordered: 
    SPICY MAGURO ( Php 280)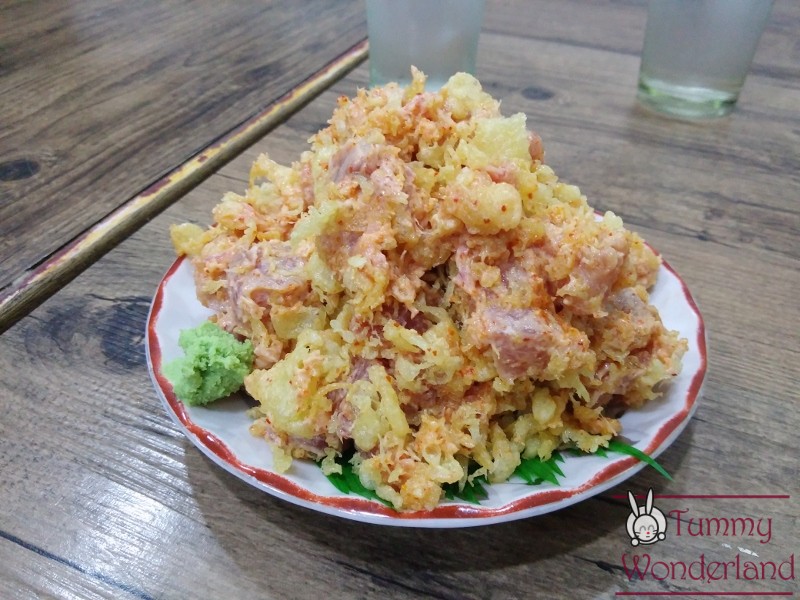 The spicy maguro is the mostly ordered here. Spicy maguro is raw tuna coated in spicy mayo with tempura flakes to add the crunch. We find the serving was too much for only two persons to share.
SPECIAL CALIFORNIA MAKI ( Php 450)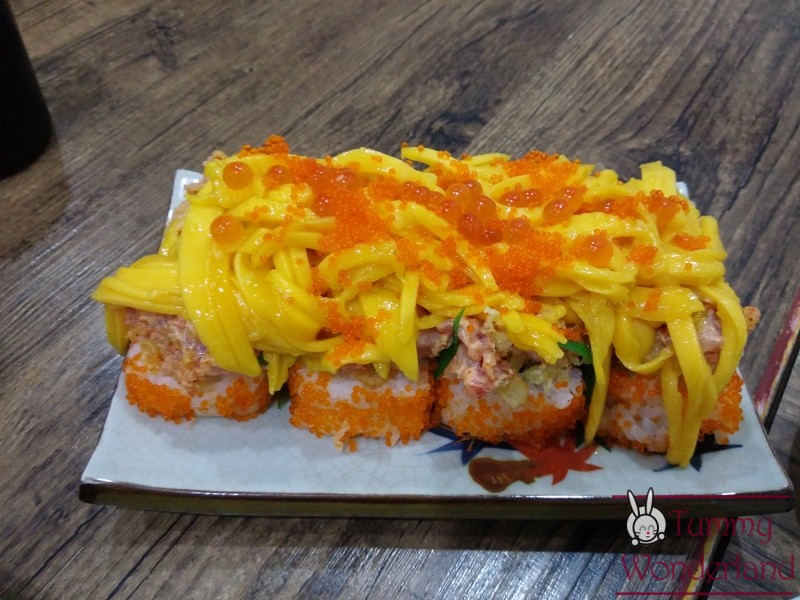 This was their signature special maki. We didn't know that it also has spicy maguro on top. It has the same taste as the previous one we ordered. But I recommend ordering this one instead. The mangoes on top are fresh and sweet.
KANI CREAM KOROKKE ( Php 220)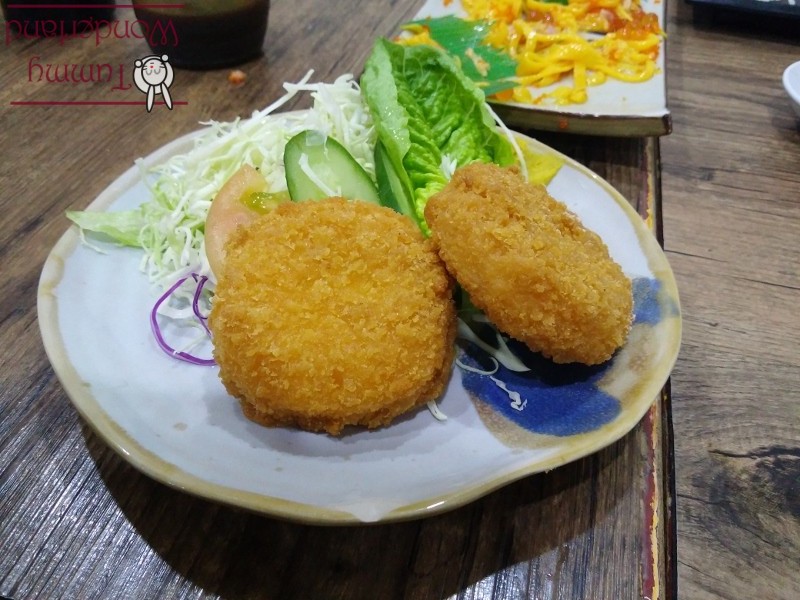 Finally, something cooked! The fried breaded crab meat cream potato croquette is creamy and crunchy. Delicious!
ENOKI BACON ( Php 60/ STICK)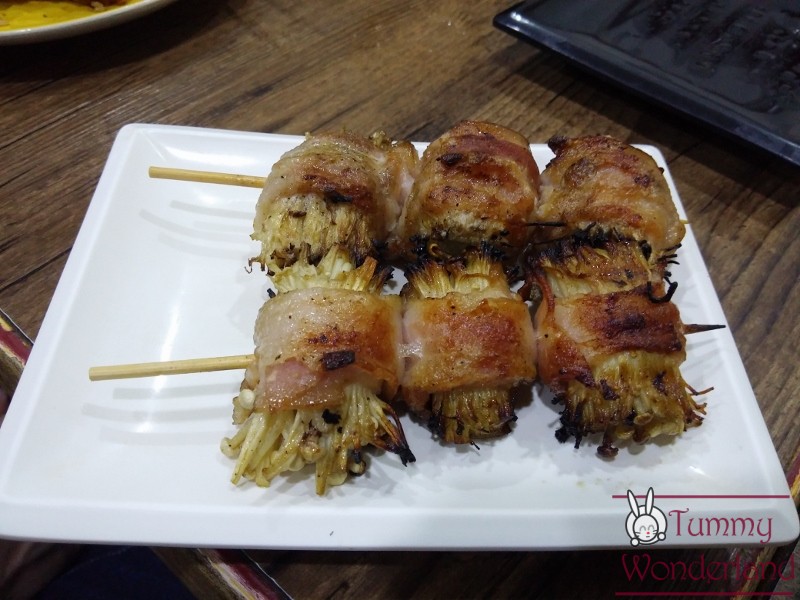 The bacon was thick and juicy together with the golden mushroom. We also ordered shimeji bacon, which was also good. If you don't like the golden mushrooms to be stuck in your teeth, better choose shimeji 🙂
GYU KUSHI ( Php 125/ STICK)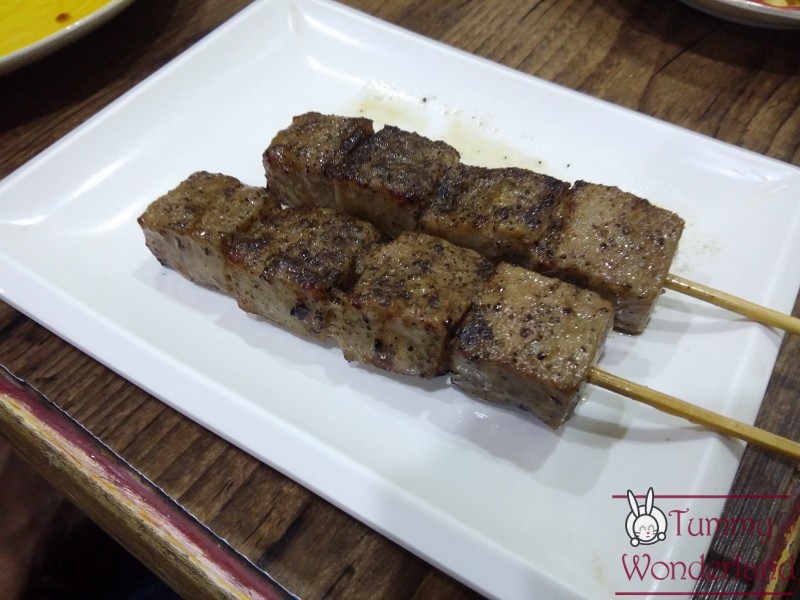 The grilled wagyu cubes are very tender and juicy. It was so soft that you won't feel the meat texture. It's good to try it because it's their best seller among the kushi yaki.
The serving of each dish was very slow. The food came out one by one. We also ordered CHICKEN TERIYAKI DON but we forgot to take a picture of it. Though it was good for one, we shared it and it was quite a serving! The chicken was delicious as well. It was very satisfying, especially for only Php 265.
SHAKE ONIGIRI ( Php 80)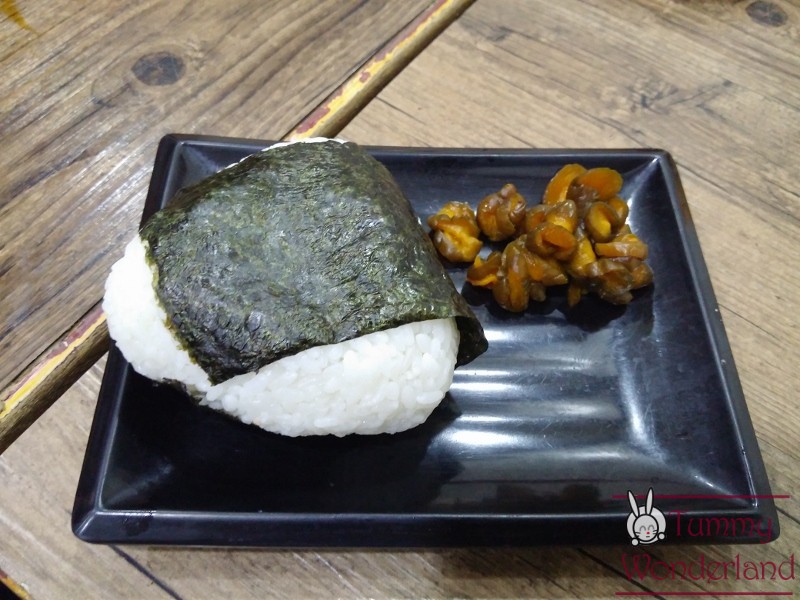 Warm rice with salmon filling
FINAL VERDICT:
The food was served slowly and literally one by one after we finish each dish. I really didn't mind during that time, but the cigarette smell became annoying after a while, making us wanting to leave already. The staffs weren't that friendly and attentive either. But complements to the food! The serving was huge and good for sharing. Each dish tastes good. We ordered many and the total bill was only Php 1,900. It was very worth it because the dishes we ordered are actually good for 3 or more persons. I suggest coming early for the parking space and for better seats.
[yasr_multiset setid=0]
Little Tokyo, 2277 Chino Roces Avenue, Legaspi Village, Makati City
Telephone: 893-7319, 893-6131
Opening Hours: 11 AM to 1:30 PM, 5:30 PM to 10:30 PM
Tummy Satisfied!
Diane from TummyWonderland.com
Frequent searches leading to this page
kikufuji makati, izakaya kikufuji menu, izakaya kikufuji, kikufuji, kikufuji menu