Tuan Tuan Chinese Brasserie is conceptualized by Lugang Cafe group which serves Hong Kong comfort food in French setting. Tuan Tuan's first branch is in SM Megamall Fashion Hall.
We went there around 6 in the evening so the place isn't crowded yet. The place looks very elegant with a high ceiling and chandeliers.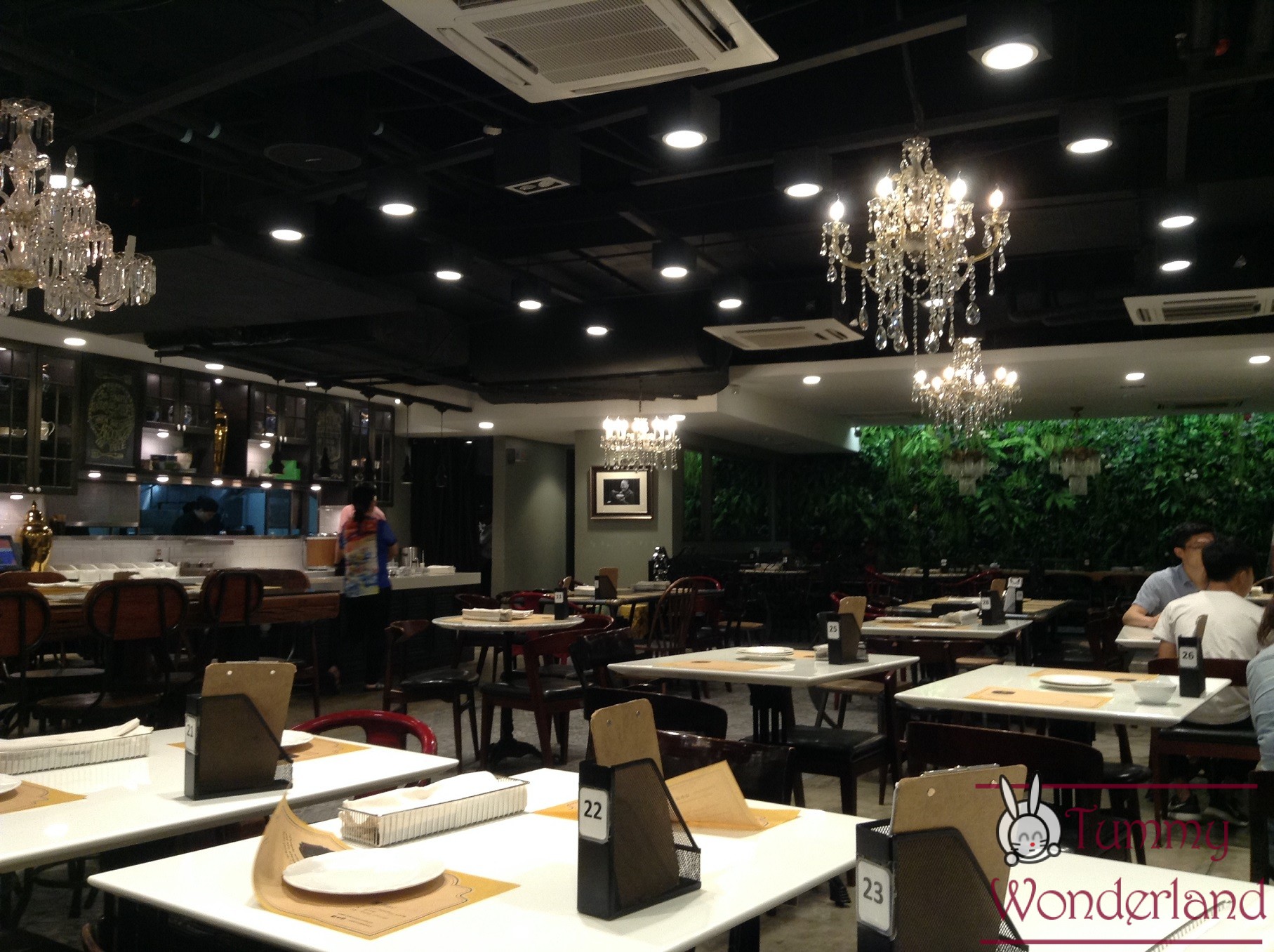 They are famous for their "Signature Crispy Snow Buns", which has 3 kinds:
a. Crispy Barbecued Pork Snow Buns
I really cannot tell the difference between this and Tim Ho Wan's pork buns, but Tuan Tuan's pork snow buns is a little cheaper in terms of price. Both of them taste really good. The pork buns are crispy and filled with delicious BBQ pork.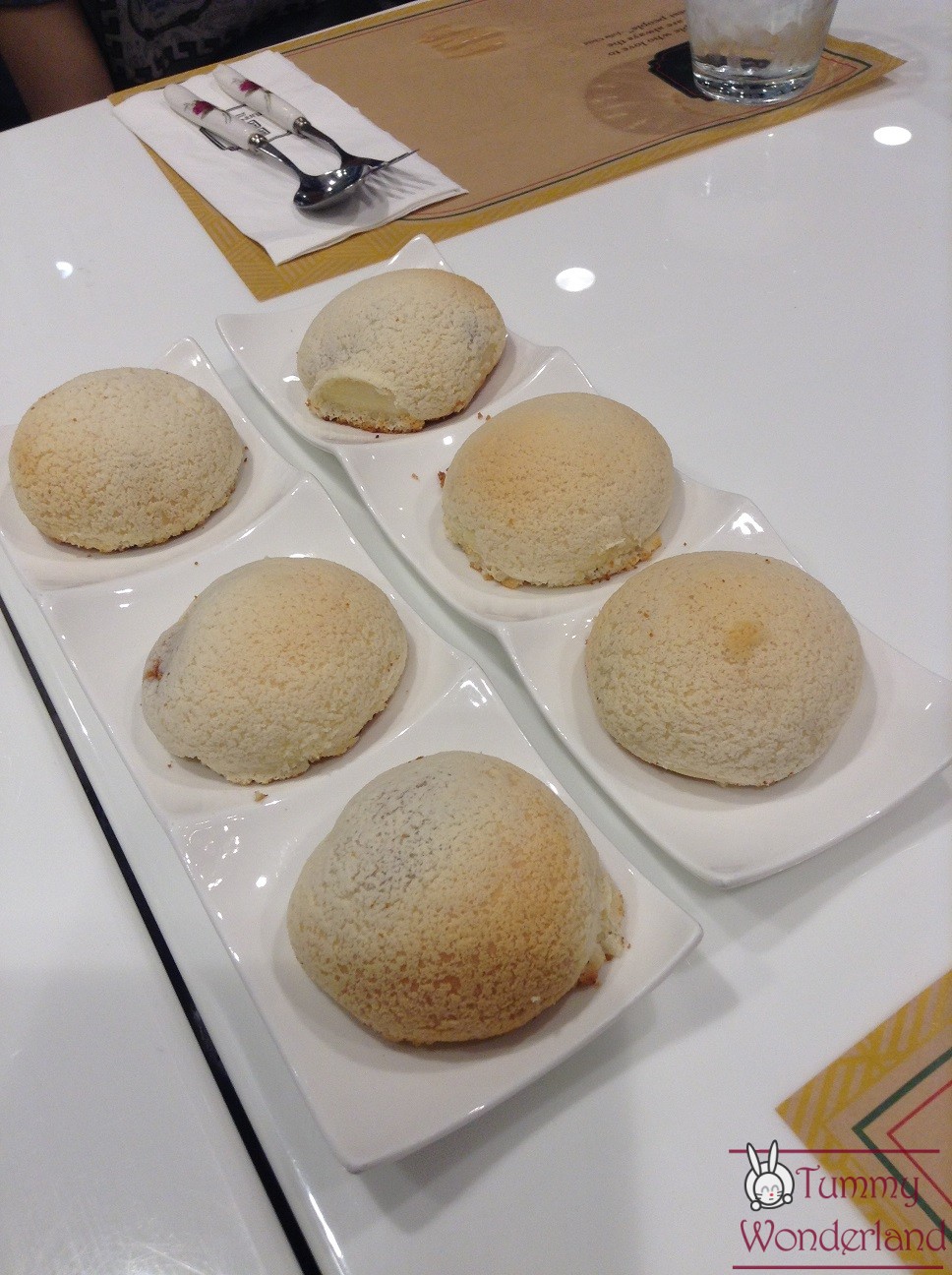 b. Crispy Pineapple Snow Buns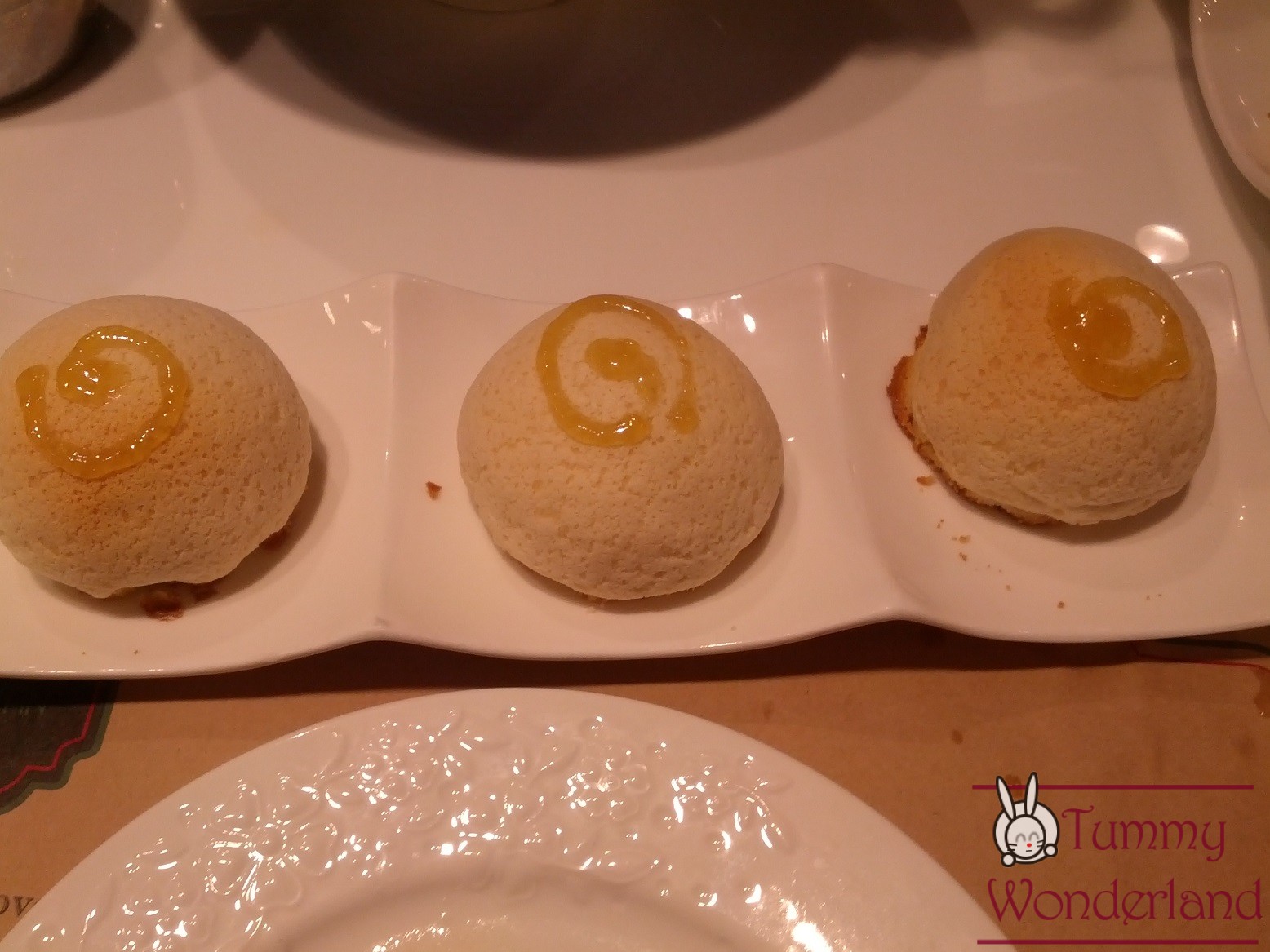 If you're not into pork and prefer something sweet, you can try these pineapple buns!
c. Crispy duck Snow Buns
I forgot to take a picture of this. Basically, it looks the same like the other Snow Buns with black sesame seeds on top. The duck is just ok, I still prefer the Barbecued Pork Buns 🙂
For their noodles, you can customize your own Noodle Soup Set. All of their soup base is made from imported fresh Pacific cod or Halibut which has a creamy fish-broth taste. The Noodle Soup set comes with a side dish and drinks ( Choice of Hot Hong Kong Style Coffee or Cantonese Lemon Tea Hot/Cold ) 
1st Noodle Set:
Chao Chou Style Dried Fish and Minced Pork, Sliced Fatty Beef, Beancurd ( Tao Pao), Rice Vermicelli +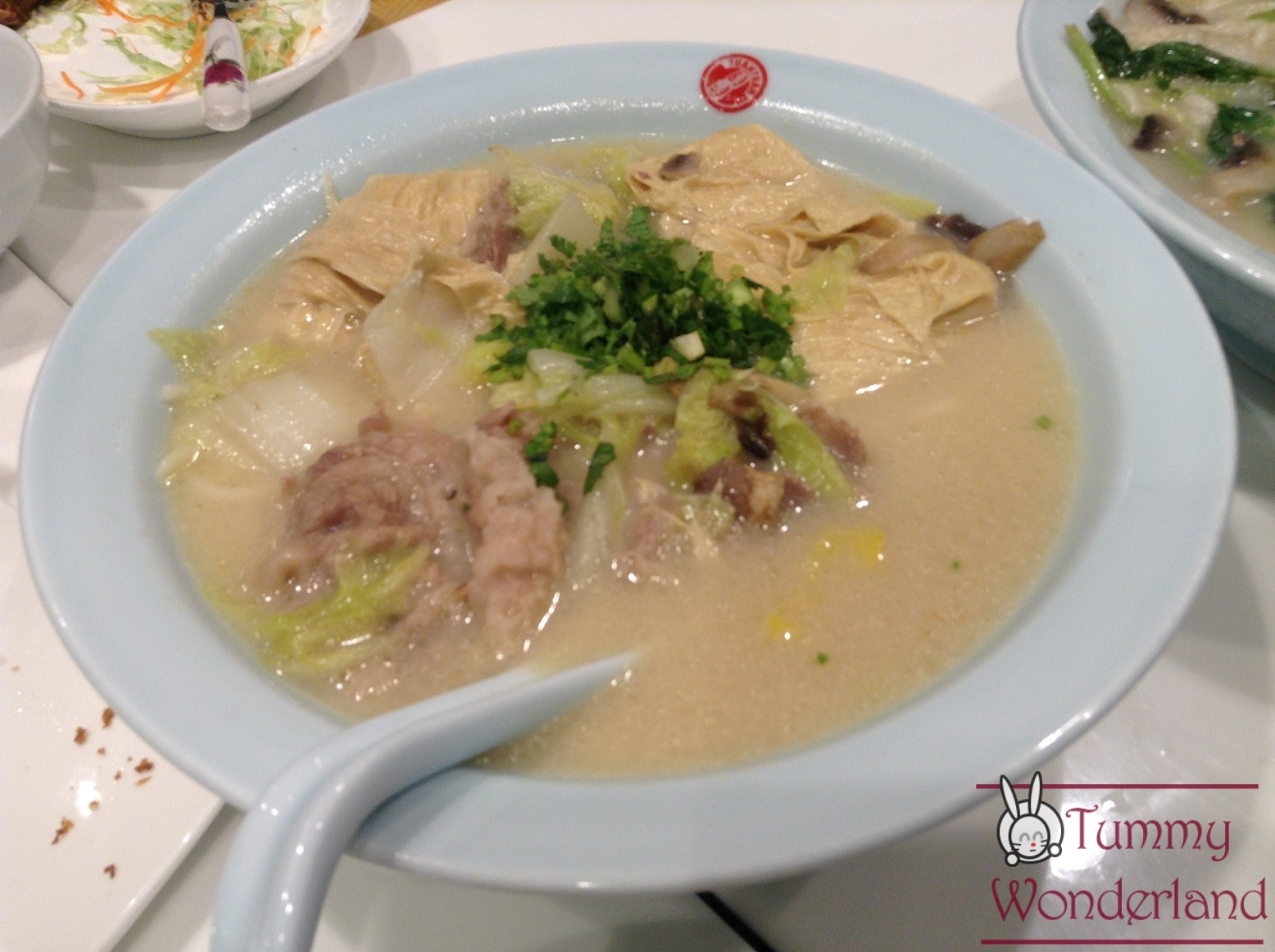 House Special Wings with Ginger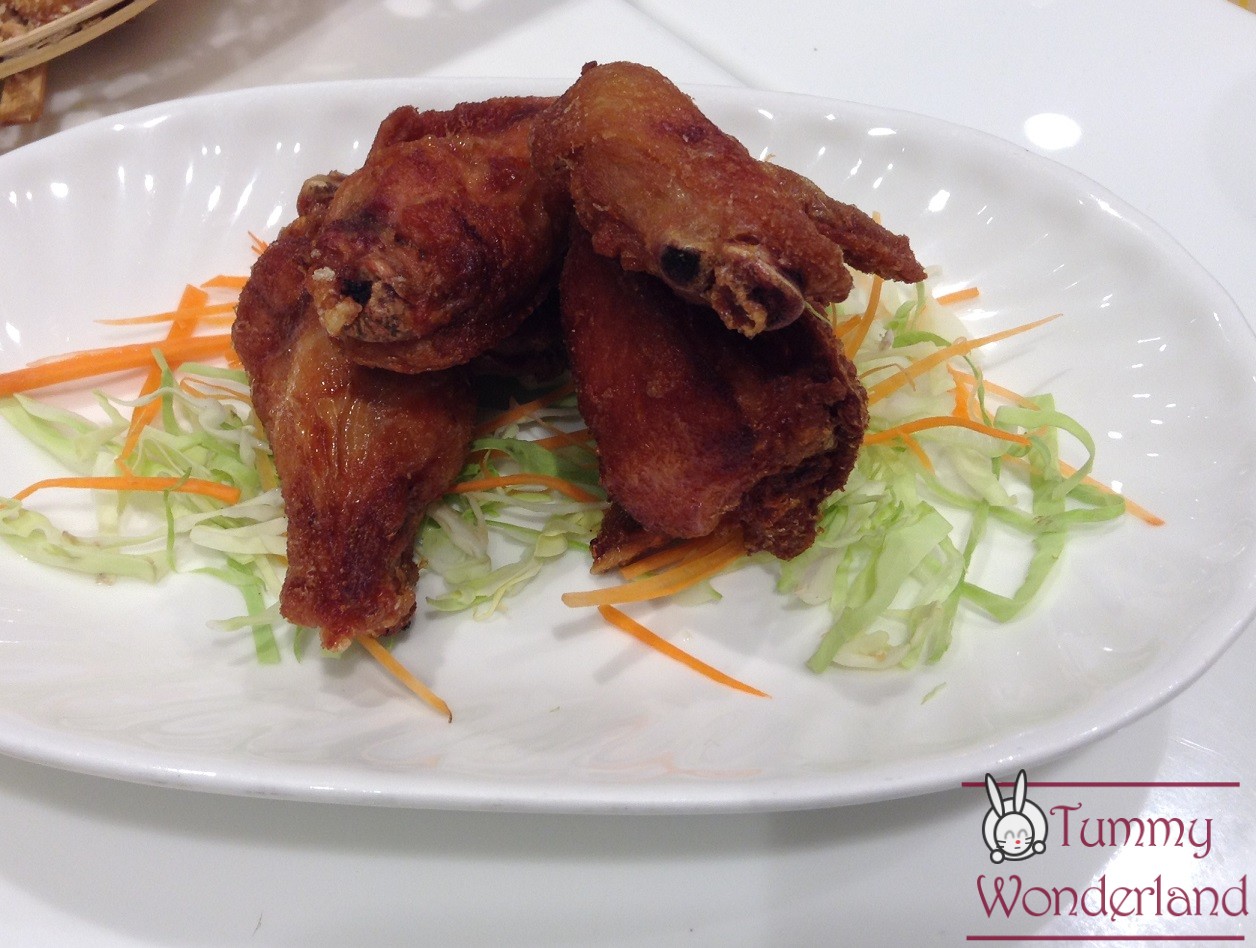 The Chao Chou Style Dried Fish and Minced Pork is the plain version. You can really smell the aroma of the fish broth. The Chicken wings should be eaten hot so you can appreciate the taste. Otherwise, its just the usual fried wings we normally have.
2nd Noodle Set:
Watercress and Almond Fish Soup, Mini Xiao Long Bao Dumplings, Mushroom Ball, Shanghai Thin Noodles +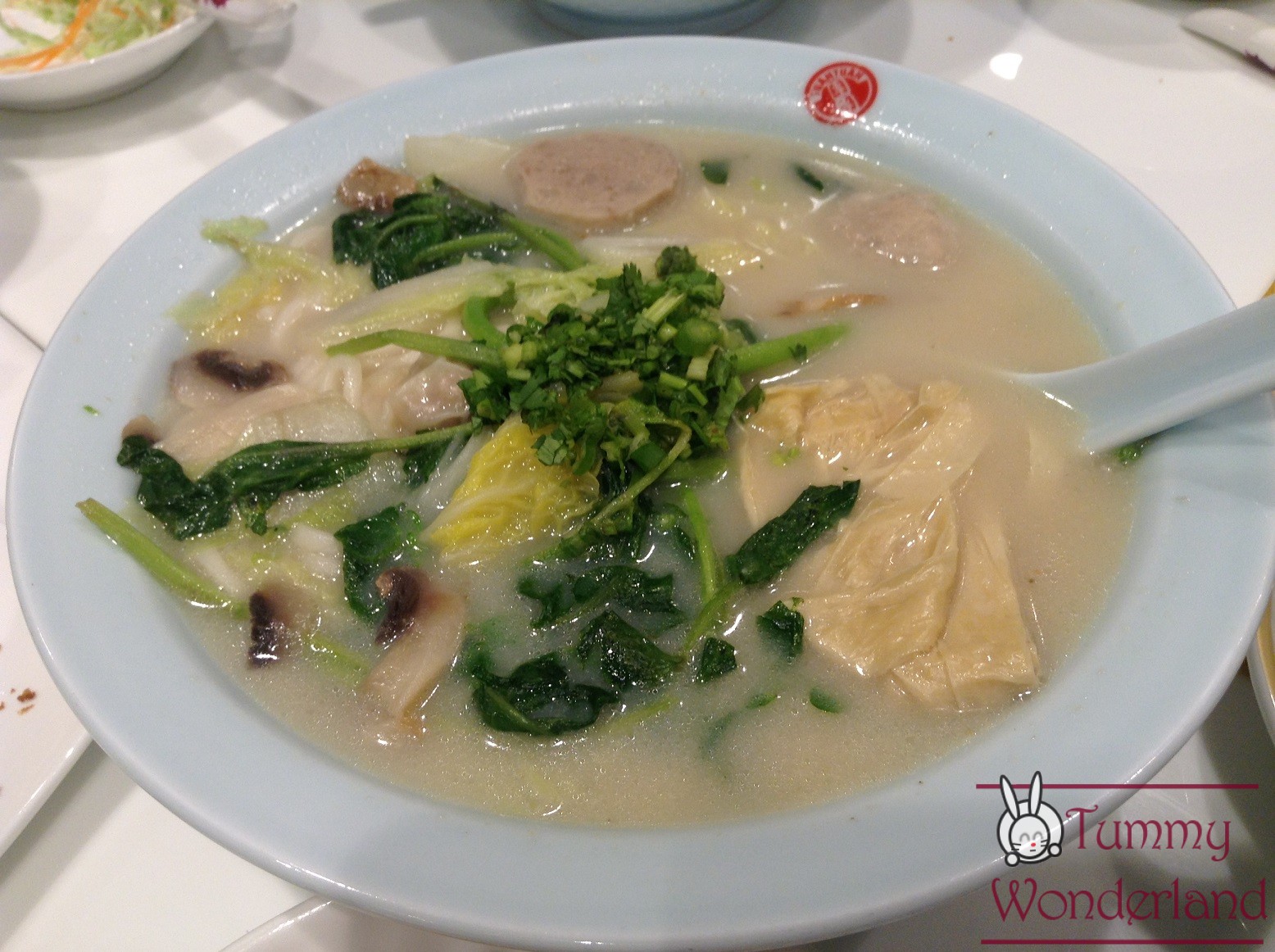 Pan Fried Boneless Chicken in Teriyaki Sauce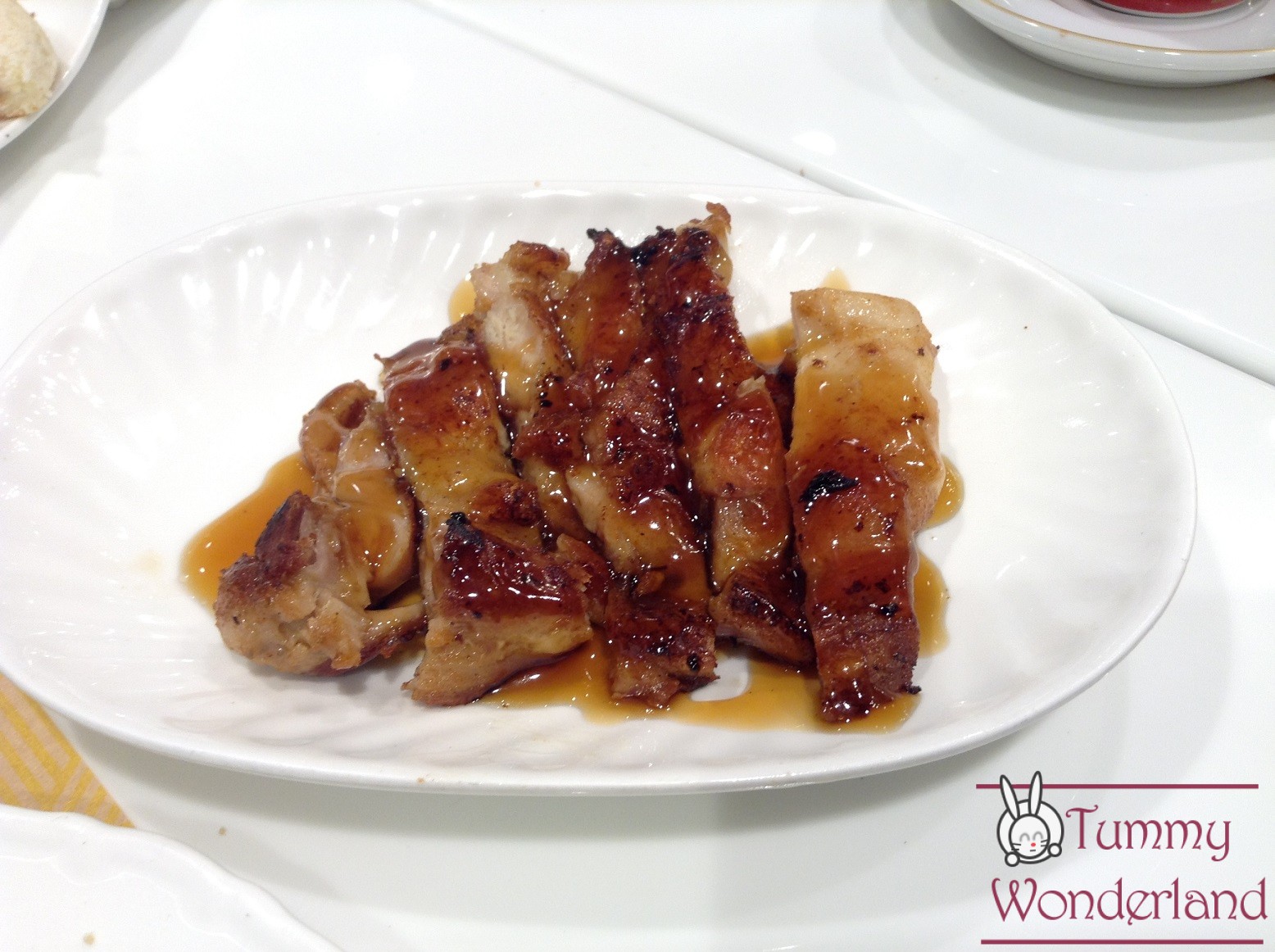 I personally liked this one better. Same fish broth but with the hint of almond in it. As for the Chicken Teriyaki, its again the taste we usually have.
We also tried their Make Your Own Noodle Soup: 
Szechuan Spicy Soup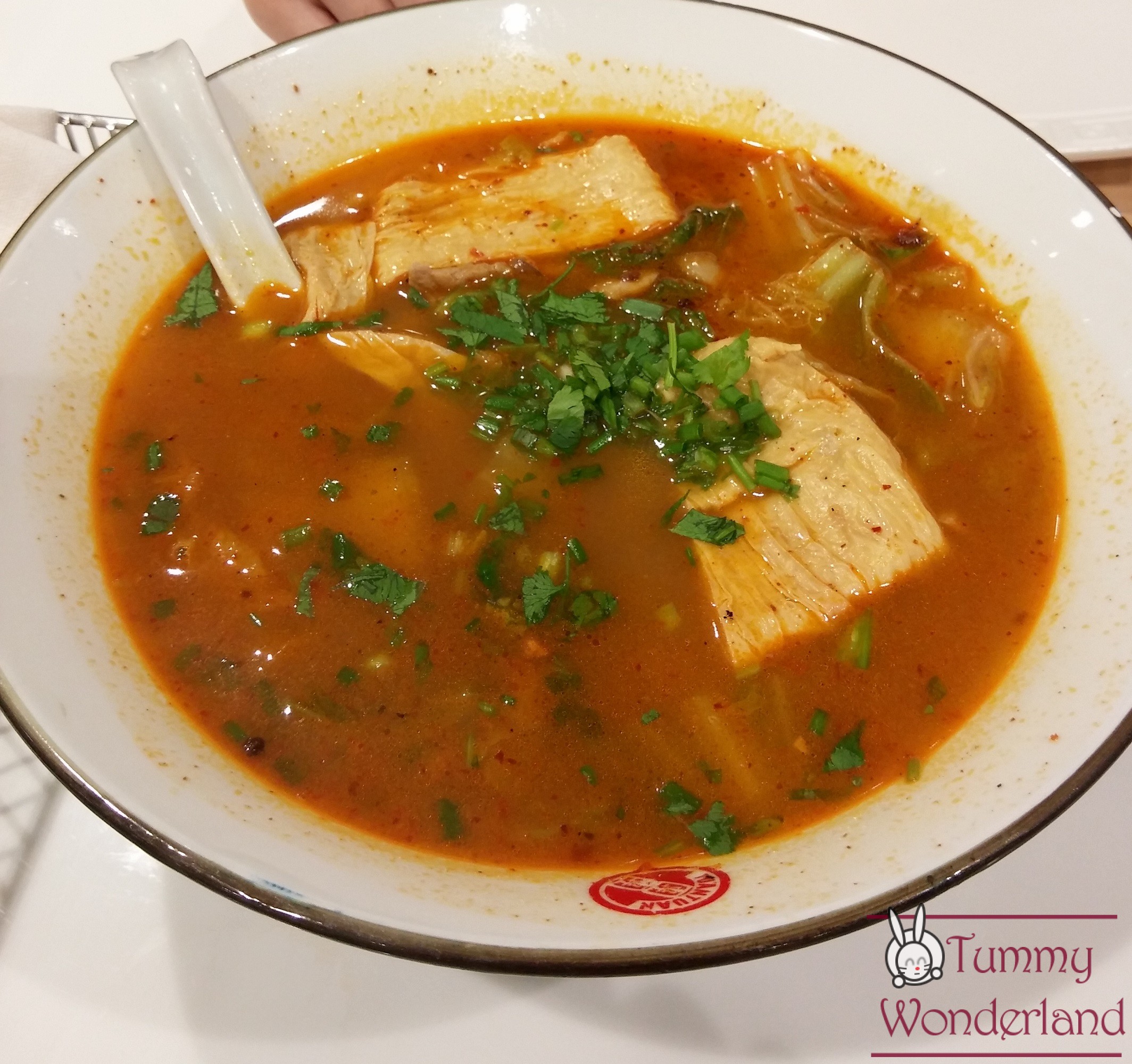 The Szechuan Spicy Soup is my favorite! It's a bit biased because I really love spicy soup. Plus, the taste is the same as the restaurants in Hong Kong. All the noodles we ordered, including the set, are solo sized. Servings are huge and are already good for two people to share.
Macanese Dishes: Portugese-influenced dishes from Macau
House Special Trio Baked Rice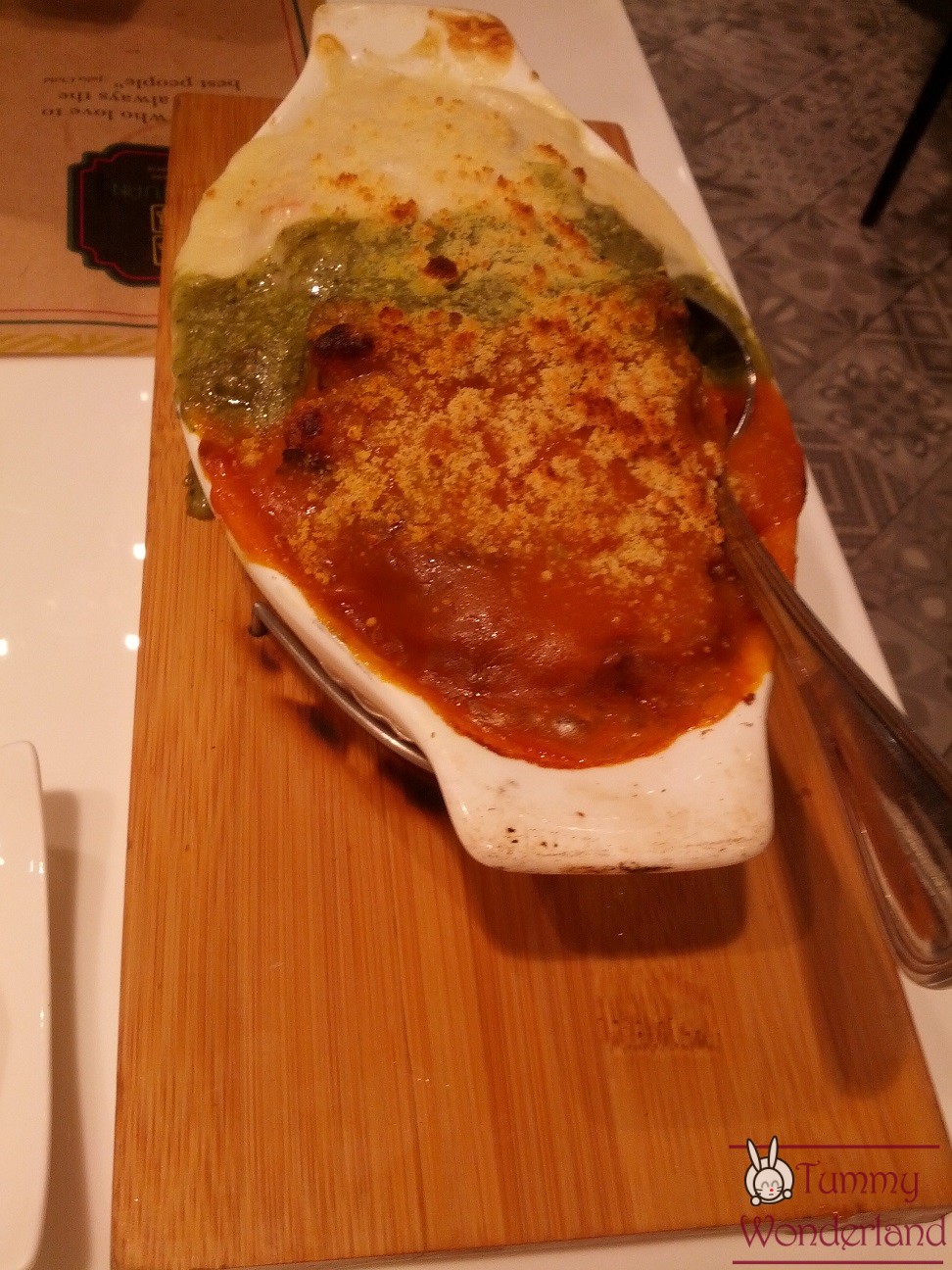 Baked Seafood, Wild Mushroom, Pork Chop on Rice
Fish Fillet with Pumpkin and Crabstick in Creamy Sauce on Rice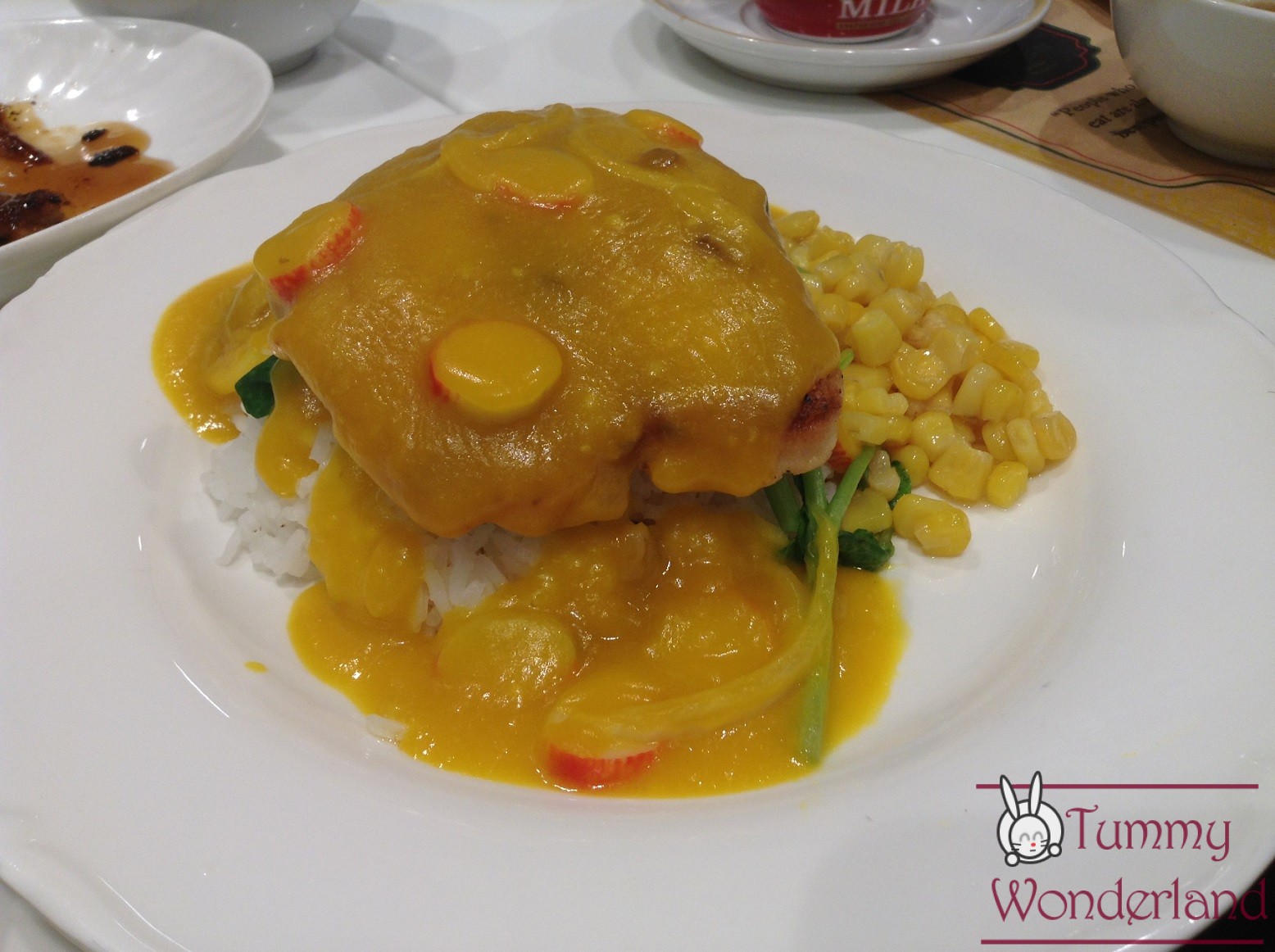 For the drinks, Tuan Tuan uses the Black and White Milk famous in Hong Kong. 
Hong Kong Style Coffee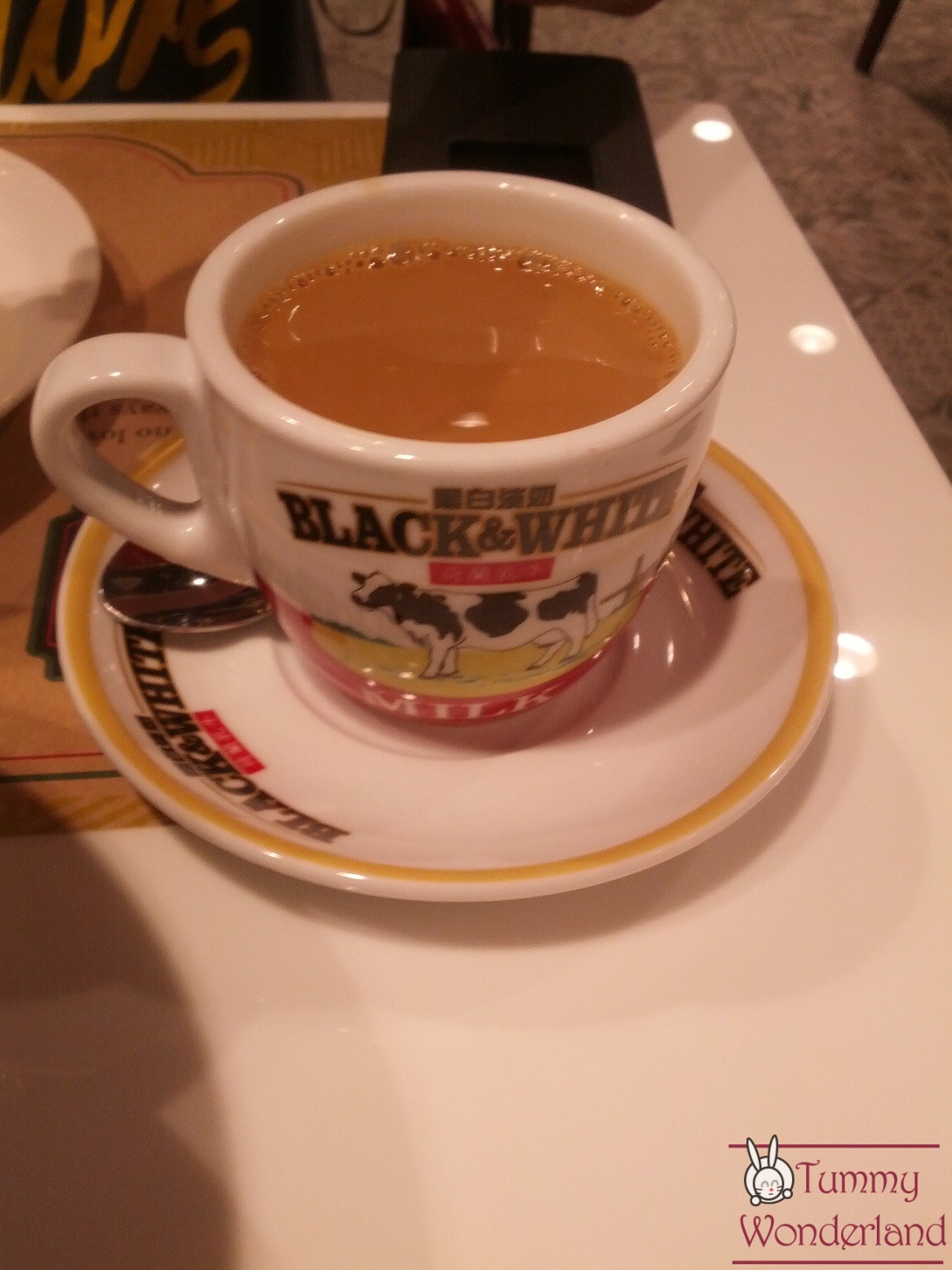 Cold Nai Cha and Hot Chocolate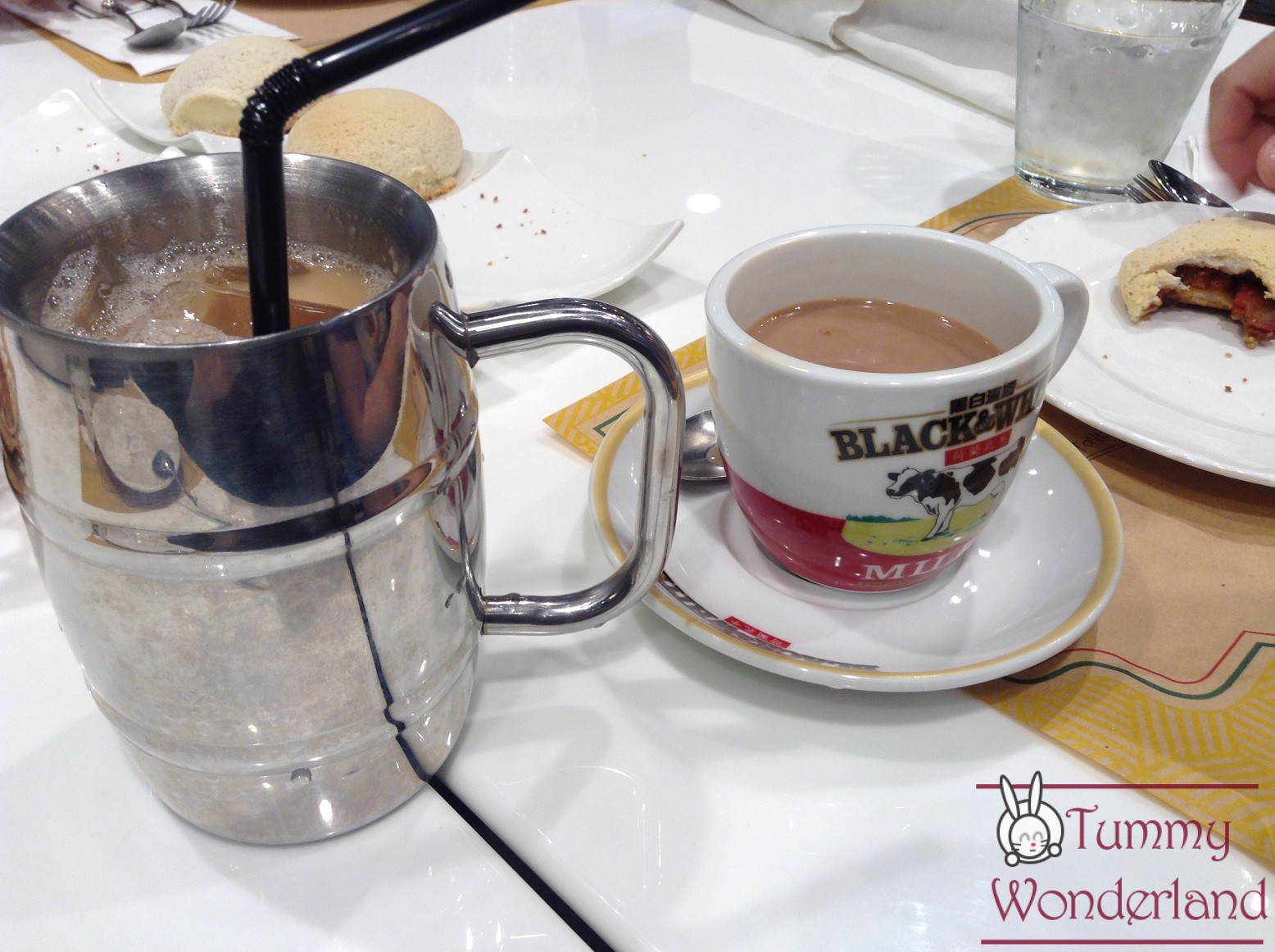 Fried Black and White Milk Bread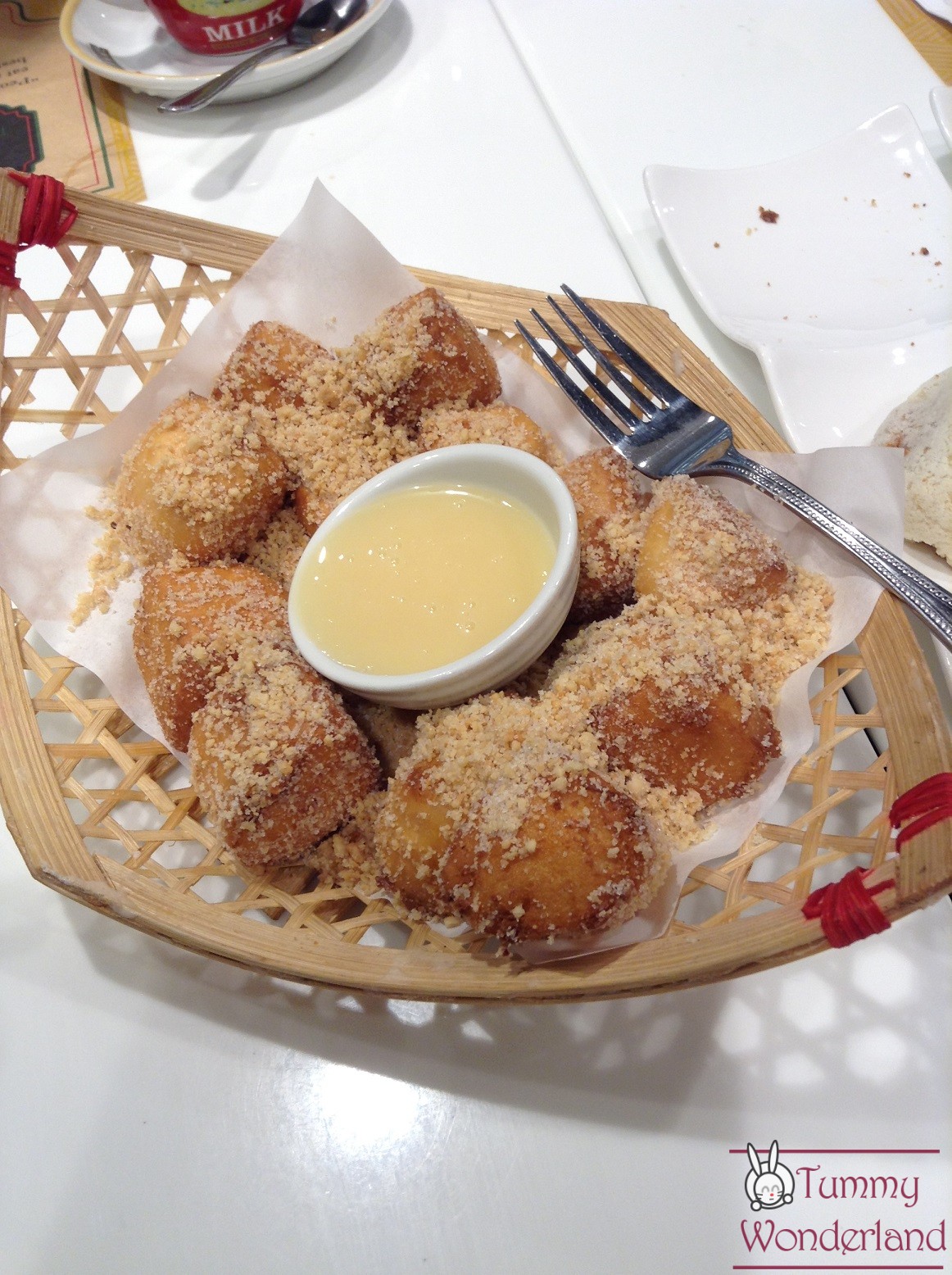 Fried Bread with crushed Peanuts, Black and White Condensed Milk Dip
A must order!!! I first dip the bread in condensed milk then dip into the crushed peanuts for them to stick. Yummy!!
FINAL VERDICT:
Tuan Tuan is a nice place to dine in anytime of the day. From a wide selection of rice, noodles and congee to just having coffee and dessert. The ambiance is very relaxing and comfortable.
In my opinion, the Macanese dishes didn't really stand out. The Noodle Soup and the Snow Buns are their specialty. We recommend to try the Pork Barbecued Snow Buns, Szechuan Spicy for the Noodle Soup and Fried Black and White Milk Bread. Servings are already good for sharing so we recommend you to order one of your choices and have it to share so you can taste everything.
We definitely will go back here.
[yasr_multiset setid=0]
Tuan Tuan Chinese Brasserie
Website: http://tuantuan.com.ph/
SM Megamall Branch
3rd Floor Mega Fashion Hall, SM Megamall, Mandaluyong City
Telephone: 632-7483
Opening Hours: 10AM – 10PM
Greenhills Branch
Greenhills Promenade, Metro Manila, Greenhills, San Juan City
Opening Hours: 11AM – 10PM
Bonifacio Global City Branch
Fifth Floor, SM Aura Premier, C5 Road Corner 26th Street,Bonifacio Global City, Taguig City
Opening Hours: 10AM – 10PM
Rockwell Branch
Third Floor, Power Plant Mall, Rockwell, Makati City
Opening Hours: Mon-Thurs, Sun 11AM – 9PM, Fri & Sat 11AM-11PM
Tummy Satisfied!
Diane from TummyWonderland.com
Frequent searches leading to this page
tuan tuan restaurant, tuan tuan menu, tuan tuan chinese brasserie, tuan tuan, tuan tuan megamall